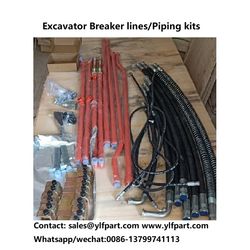 Lister Information
| | |
| --- | --- |
| | Joshua |
Company Information
| | |
| --- | --- |
| | Xiamen Yonglianfeng Machinery Co.,Ltd |
Actions
excavator auxiliary circuit hydraulic piping kits
Location:
Amoy,
Fujian ,
China
Description:
We are manufacturer of hydraulic breakers/hammers and replacement spare parts for hydraulic breakers of Soosan,Hanwoo,NPK,Toyo,Furukawa,montabert,rammer,atlas copco,MSB etc., The hydraulic breaker parts we have are: front head, back head,cylinder,chisel tool, seal kits ,piston, diaphragm, thrust bush,ring bush,front cover ,rod pin/chisel pin,stop pin,accumulator, through bolt,side bolt , bracket, upper cushion,lower cushion,damper and so on.
We have 21 years experience in producing hydraulic hammer and spare parts ,we can also make and install excavator hydraulic kits/hammer lines/piping kits/hydraulic installation kits/breaker lines for hydraulic hammer,hydraulic shear,hydraulic crusher,quick coupler,demolition grab,power rammer etc.
the following is part of the models: 
DH35 DH210 DH258 DH300 DH360 ect.
RB55 RB110 RB170 RB225 R210LC RB290 RB420 RB505 etc. 
PC40 PC50 PC60 PC100 PC120 PC200 PC220 PC250 PC300 PC300-6 PC400 PC450 
EX70 EX100 EX120 EX200 EX200-1 EX300-3 EX240 ZX200 ZX230 ZX360H etc
E60 E70E E120 E200B E320 E320B E320C E320D E330D E324 E330BL  etc
EC55 EC120 EC160 EC240 EC290 EC360 EC460 etc
SK30 SK60 SK100 SK120 SK200 SK250 SK270 SK320 SK400 SK450 etc
HD250 HD400 HD700 HD800 HD1200 HD1220 etc
SH60 SH100 SH200 SH200 SH240 SH280 SH300 SH330 SH340 SH450 etc
SK60 SK100 SK200 SK200-6 SK220-3 SK100-3 etc
The hammer line kits we have are: hose,one-way pedal valve,two-way pedal valve,clip,steel pipe,relief valve,stop valve/shut off ball valve, breaker connecting oil hose,pedal switch, solenoid valve,return filter,spool valve/auxiliary spare spool etc.
Management Status:
To Manage